The first event of 2021 was the (online) kick-off meeting of the AMeLiE project on 13-14 January. AMeLiE – Advanced Media Literacy to Counter Online Hate Speech is a 2-year Erasmus+ KA2 Project. It aims to train teachers and representatives of school communities (school managers, digital facilitators, families) on a specific methodology, focusing on the formation of advanced media skills for those in educational roles.
AMeLiE consortium is led by EGInA and unites six partners from five countries: Belgium, Germany, Greece, Italy, Romania.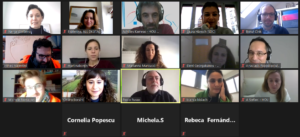 AMeLiE addresses the issue of online hate speech, a topic that is increasingly being discussed in public debate. Hate words in social networks represent, unfortunately, an extensive and transversal phenomenon, but also extremely liquid and difficult to contain because it spreads rapidly and widely and is both a cause and effect of a process of cultural change strengthening manifestations of discrimination and intolerance, both online and offline.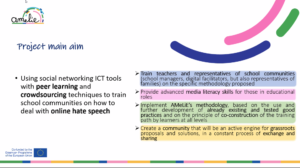 The meeting started with the project overview, its aims and objectives from EGInA's Chiara Borsini. Since the project is based on the implementation and further upscaling of two already successfully tested methodologies, those were put as the focus of the first day.
Anastatis Panagopoulos from Hellenic Open University (HOU) introduced the "SonetBULL" platform, which is based on the use of an interactive platform collecting peer-to-peer training activities and co-construction of materials and awareness campaigns (crowdsourcing) against bullying behaviours (the result of an Erasmus+ project, where HOU was a partner). It is a repository for educational materials and a community tool for social networking and groups. It is possible to open debates in a forum, upload contents, case studies, bullying episodes, etc.
The second practice "Parole Ostili" was presented by Marianna Marcucci. Parole Ostili is a project born against hate speech at all levels but also to counter fake news and cyberbullying. It offers training courses and provides free access to a series of educational materials for schools of all levels.
Parole Ostili designed a Manifesto of non-hostile communication, which is a charter of 10 principles useful to improve Internet users' communication and behaviour. The Manifesto is a commitment of shared responsibility, which promotes respectful and civilized online behaviours. It aims to ensure that the Internet is a welcoming and safe space for everyone. To date, the Manifesto has been translated into 31 languages, it has been adapted for 7 different fields and used in schools thanks to 200 educational worksheets.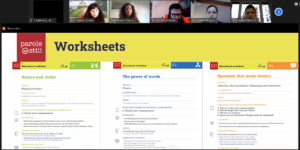 Marianna described some of the templates related to the Parole Ostili methodology and gave examples of some of those worksheets. Each worksheet is customized according to the school level and age category and is linked to a specific instance of the Manifesto, in which lessons, time frames and key competencies are provided. These worksheets have already been tested and received good feedback from teachers and students.
AMeLiE aims to offer effective and innovative tools to contrast the phenomenon of hate speech, intervening, with specific advanced training, on the educational community (teachers and headmasters, but also families and local communities) and then establishing a Virtual Network of schools for the fight against hate-speech. Training courses on the subject will be offered in a "blended" mode and through planned mobility, the first 25 "initial users" (5 per piloting partner) will be trained and will then involve 5 more participants each.
The first learning and training activity will be the training and setting up of the working group of trainers from AMeLiE partner organisations, the exchange of good practices and learning the methodology of the coaching circles. This technique of coaching circles is very effective in identifying people's needs, expectations and attitudes towards change. The experts, presenting the cases, will ask participants to practice a deep and generative listening on how to integrate AMeLiE's objectives (and more generally advanced digital and media skills training) into their future career paths. After learning the methodology, will have to hold in their respective countries two coaching circles with 5 representatives of the target group (= members of the school community).
To show the practical application of the Coaching Circles methodology, Paolo Russo from Stati Generali dell'Innovazione facilitated the workshop for the project partners.
During the meeting, the partners also discussed financial and administrative issues, quality assurance framework and communication and dissemination activities. The first results of the latter are already in place – if you are interested to follow the updates from the project and partners, to learn about innovative practices and interesting projects addressing media literacy and countering hate speech – follow AMELIE PROJECT FACEBOOK PAGE or find us on Instagram.