Fundatia EOS Romania, the Romanian partner of the AMeLiE project, organized on January 26th, 2022, a piloting kickoff meeting with the teachers (initial users) that will be involved in the pilot activities at national level.
The five initial users that will participate in the pilot of the training path and pilot of the AMeLiE online platform, are teachers that are representing the AMeLiE partner schools that were chosen to be part of the project since the beginning. The Romanian partner schools that will run the pilot at national level are:
"Tudor Vianu" National College of Informatics Bucharest
"Mihai Eminescu" National College Petroșani
"Samuel von Brukenthal" National College Sibiu
"Tudor Vladimirescu" National College Târgu-Jiu
"Mircea cel Batran" National College Râmnicu Vâlcea.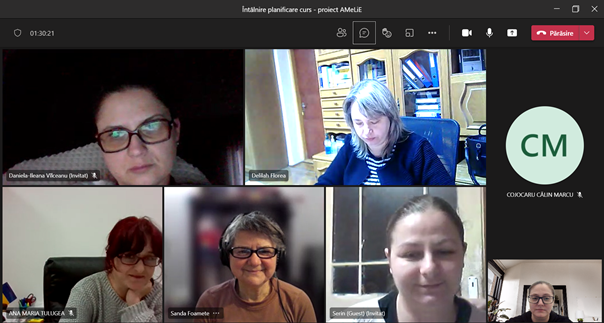 During the piloting planning meeting with the schools and initial users, were discussed all the activities that need to be implemented during the pilot phase. AMeLiE platform was presented to teachers that were not able to attend platform presentation session organised in mid-November as part the AMeLiE LTTA (training for trainers). Romanian teachers learned how to create an account and how to login in the platform, but also how to navigate through the platform menu.
The AMeLiE worksheets uploaded on the platform were also introduced and explained to the teachers, together with the Romanian version of the Manifesto on Non-Hostile Communication. Presentation of the Romanian version of the Manifesto completed the information received during the webinar organized on January 17th by our project partner Parole Ostili, webinar organized for all the teachers involved in the piloting activities.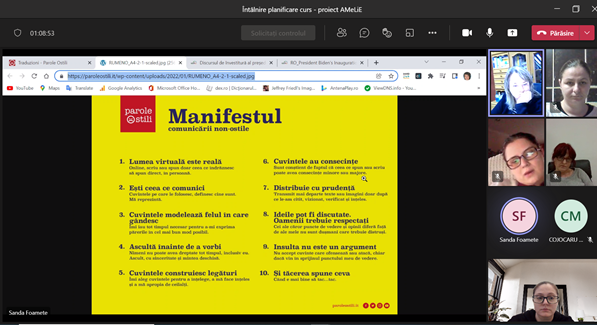 Teachers Handbook was also presented during the Romanian piloting kickoff meeting. All the tasks and activities from the Handbook for teachers were presented and explained in detail to teachers from partner schools, in order to clarify all the tasks that need to be implemented during the pilot period.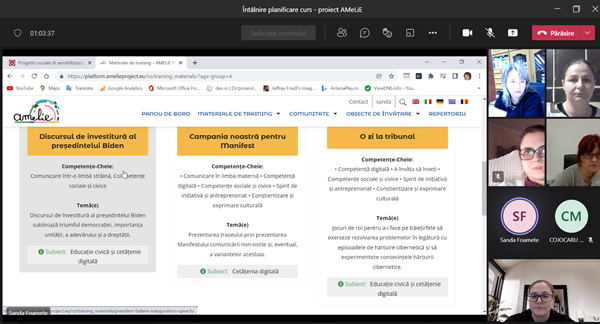 Participants received very well the topics presented during the meeting and they were very excited to start the implementation of AMeLiE training with students from their schools. They provided a very positive feedback regarding the content of the training, the online platform and the Manifesto document. Pilot activities of AMeLiE project in Romania are now ready to start!