As the AMeLiE virtual network is growing and new members are joining by the day, in this blogpost we talk about the new developments on our platform and what to expect in the coming months.
The resources
Currently, there are 40 lesson plans on how to address hate speech that teachers can directly use in their classrooms. The lessons plans can be downloaded for free. All the resources on the AMeLiE platform are completely open. Users only need to register and create a profile on the platform.
The lesson plans are divided into age groups: 3-6 y.o., 6-10 y.o., 10-14 y.o. and 14-18 y.o. Teachers from pre-schools, primary and secondary schools, and high schools can easily find the lesson plans for their students. The lesson plans were developed by our partner Parole Ostili and have already been tested by teachers in Italy. Parents can also use them at home with their kids. The lesson plans are available in English, Italian, German, Romanian and Greek.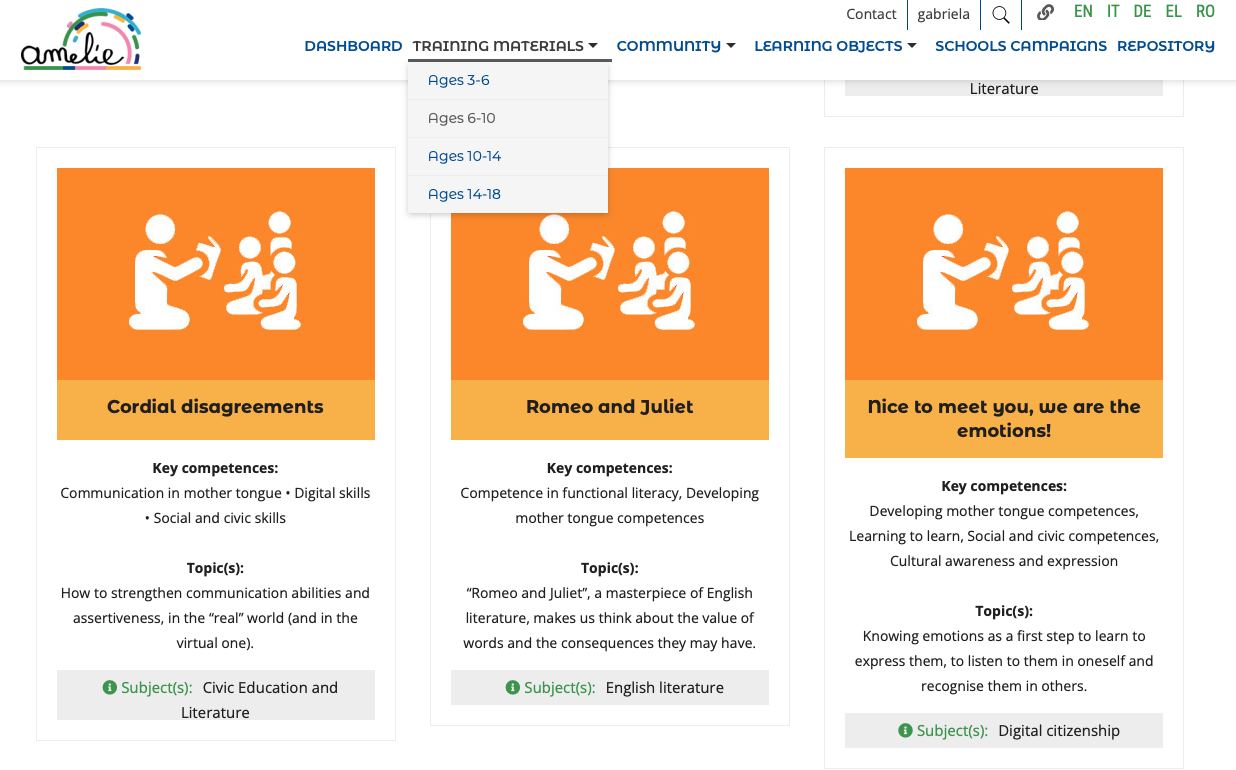 What does a lesson plan look like?
The lesson plans have a title that indicates the topic or the main resource used, e.g., "Nice to meet you, we are the emotions" indicates that the lesson focuses is on the different emotions that words can provoke. Each lesson plan addresses one or more principle from the Manifesto of non-hostile communication. The lesson plans include the key questions addresses, the resources and materials needed and, most importantly, a detailed description of the activities. The time necessary to carry out each activity is also indicated. The lesson plans can be consulted online, and are also available as downloadable pdf files, which the teacher can easily print and use for reference during the lesson.
Are there any other resources?
Yes, in addition to the lesson plans, the members of the platform – teachers and educators from different countries – are sharing relevant news called blog posts. There are also 5 research studies, 25+ best practices and 6 personal experiences.
The members
Currently, there are more than 160 teachers and trainers in the network, and it's growing by the day. Teachers come from various countries, but mostly from Germany, Italy, Greece, Romania, Bulgaria, and Serbia. Members can discuss in the Platform's main forum or, as it happens more often, in the groups. There are country groups for Belgium, Bulgaria, Serbia, Germany, Romania, Greece, and Italy, where teachers from those countries can exchange in their national language. Anyone can set up a group. Groups can also be thematic for discussing a certain aspect of online hate speech or based on the age group of the students (e.g., a group for all primary school teachers). There is also a European group, where teachers from different countries can exchange in English. It is very easy to create or join a group.
The Kind speech day campaigns
In the months of April-May-June 2022, teachers from the AMeLiE network are running Kind speech day campaigns in their schools or with their classes. Guidance and tips on how to organize such campaign are available. To put it simply, the Kind speech day campaign is a day dedicated to kindness. On a selected day, teachers organize an activity to spread a kind message aimed at fighting hate speech. This activity could be an event, a social media post, a flash mob, a video, a collage, anything that reflects how they are working with their students on non-hostile communication. Here are some examples from the Kind speech day / Ден на добрата дума organized by Bulgarian schools. An overview of the activities in Romania is available in this blogpost.
The competition
Teachers who share their Kind speech day activities and messages on the AMeLiE platform by the end of July can participate in the international competition. Hurry up and upload your campaigns (don't forget to read the rules first)! It's easy – log into your profile on www.platform.amelieproject.eu and go to the "GET ACTIVE" menu on the right. Click on "Upload Learning Objects" and choose School Communication Campaigns -> Upload content now. You can describe what you did and upload some photos and videos. Once you are ready, click on the green "Add content" button at the end, and voilà! A Jury will select the 5 best campaigns and invite the teachers to an awards ceremony in a European capital city. Which one? We will tell you more soon, so stay tuned!